Shandong University Teacher and Student Delegation Walked into Tianquan to Practice the Cooperation Mode of Industry, University and Research Institute
2018-08-01 13:42
---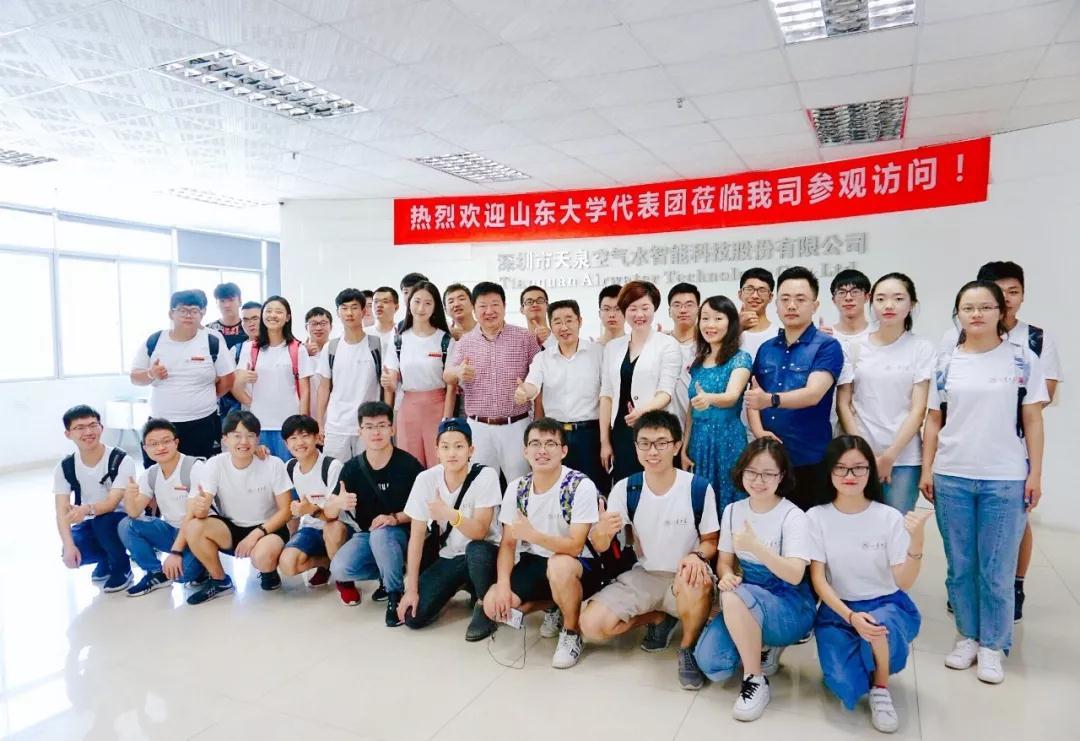 On July 31, 2018, more than 30 students from the Shandong University Jinan Campus, Qingdao Campus, and Weihai Campus, under the leadership of Wang Xingxing and Wang Feihu, Executive Vice Presidents and Deputy Directors of the Cooperative Development Department of Shenzhen Research Institute of Shandong University , Take the bus to Shenzhen Tianquan Air Water Intelligent Technology Co., Ltd. (hereinafter referred to as Tianquan Technology) research and development office center, Tianquan Technology Chairman Bi Yongtao, Tianquan Technology General Manager Wu Fang and Tianquan Technology Deputy General Manager Hu Bing Mr. and other representatives of our company gave a cordial reception and had an in-depth interactive exchange with students.
A Business Practice
of Empowering Public Welfare with Science and Technology First of all, as the teacher and friend of Tianquan Technology, Tianquan Technology introduced the origin of Tianquan Technology to students. At the beginning of 2016, in the process of loving assistance to the Nugu Primary School in Bijie District, Guizhou Province, in the face of the lack of safe drinking water infrastructure in remote mountainous areas, air water technology has played a unique practical value. As a result, Tianquan Technology transformed from industrial wastewater treatment to focusing on the standardization of R & D and manufacturing of air water equipment. Multi-level product line, focusing on two types of rigid demand markets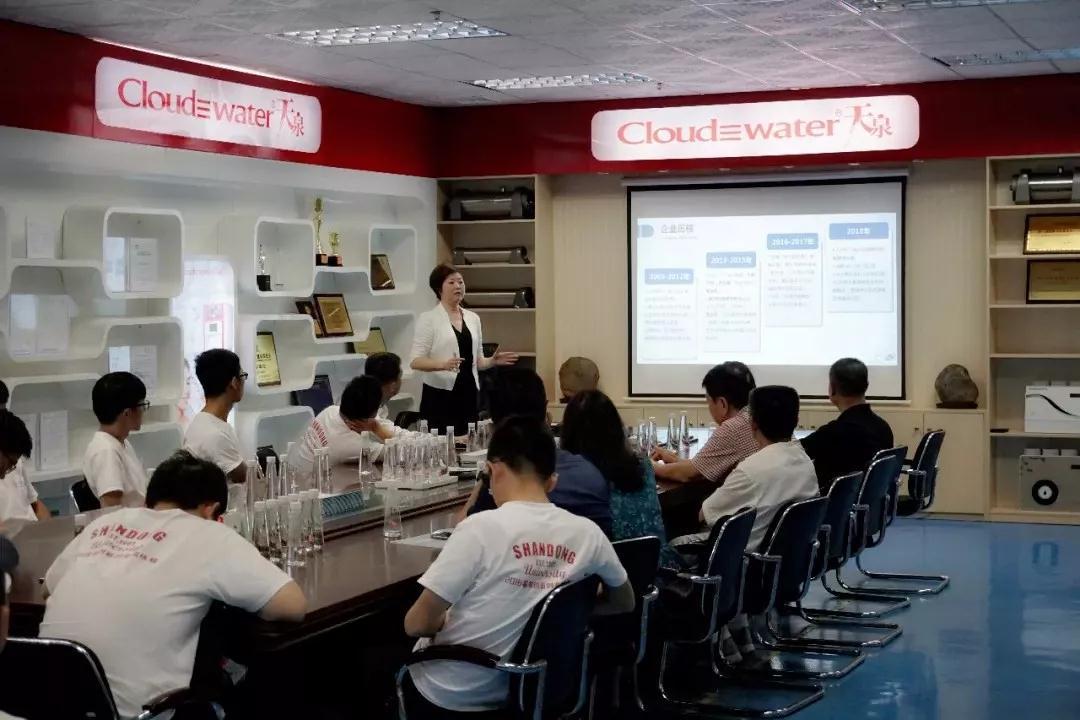 Next, Ms. Wu Fang, general manager of Tianquan Technology, introduced the current status and future of Tianquan Technology to the students. Since starting to focus on the field of air-to-water in 2016, Tianquan Technology has formed a multi-level product line composed of "small commercial water dispensers + shared drinking water equipment + large-scale mobile water stations". At the same time, in the civilian market, it has gradually become internationalized in 2018; in special industries, the customized drinking water solutions provided by Tianquan will soon be applied on the ground in actual scenarios such as islands and drilling platforms.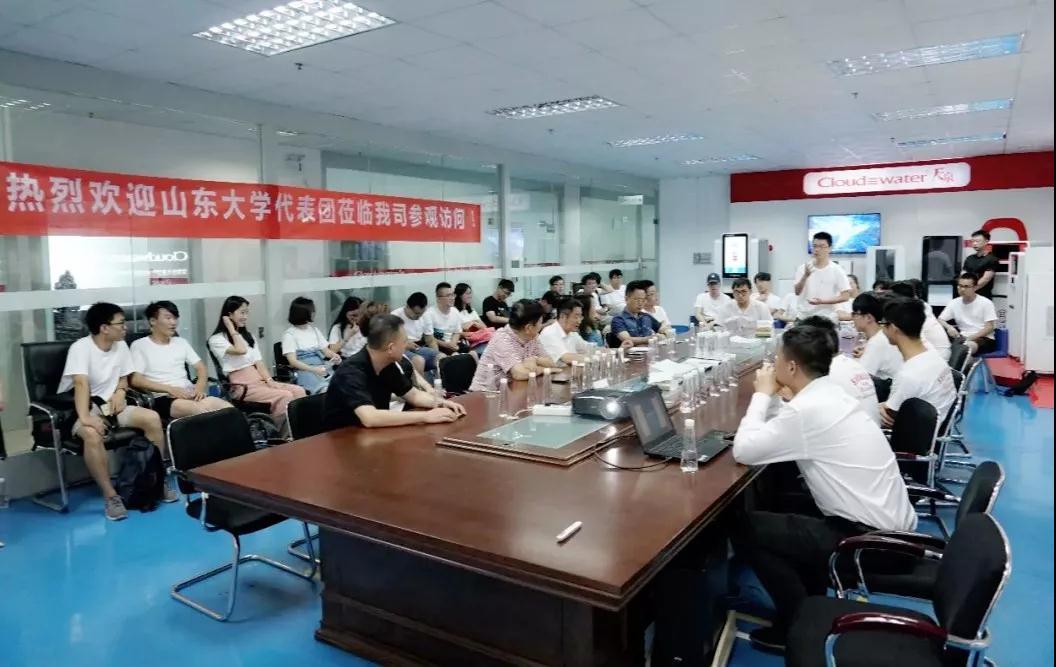 Finally, under the leadership of Bi Dong, President Wu and President Hu, President Wang Mingxing and his classmates visited the R & D trial production line and learned in depth the research and development process and production links of the Tianquan air water maker. , Product application, social welfare, personal development and other issues, there was a lively discussion. At the same time, Chairman Bi and President Wang Mingxing jointly proposed that in order to promote technology application innovation and technical personnel training in the field of air-to-water, in the future, the way of joint running of schools will be considered to establish the "Air Water Research Institute". Through this event, Tianquan Technology and Shandong University have further deepened the basis of industry-university-research exchanges and cooperation in the fields of technology application and talent docking, and have become another example of school-enterprise cooperation.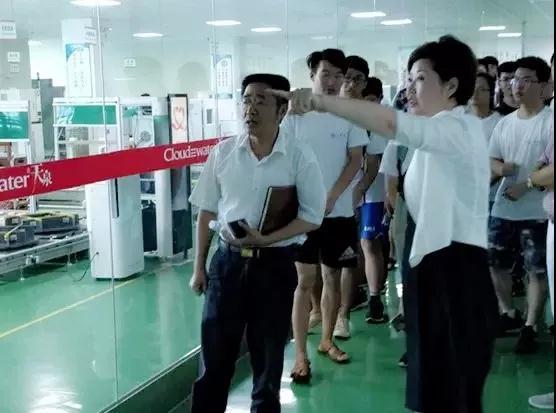 ---
MORE NEWS

[Heavy Report] Air Water Technology Makes the Best 100 Inventions of Time Magazine 2019
The American "Time" Weekly commented on the 100 best inventions in the world in 2019.
2019/12/20

Intelligent technology, enjoy the future with quality! See Tianquan Intelligent Realize the Future
According to the latest official information from the Hi-Tech Fair, this year's five-day Hi-Tech Fair has an exhibition area of 142,000 square meters
2019/11/18

Take you to reveal the new drinking water fashion to see how Tianquan Intelligence shines
Shenzhen Tianquan Air Water Intelligent Technology Co., Ltd. (hereinafter referred to as Tianquan Intelligent) is one of the innovative teams in the field of intelligent technology
2019/11/14


Add:4F, building A3, Yihe (Tianliao) Precision Industrial Park, Gongming street, Guangming District, Shenzhen
Marketing Center:8F, block A, Zhongyin building, CaiTian Road, Futian District, Shenzhen

Wechat
WORKING HOURS
MONDAY TO FRIDAY 8:00-18:00

Website