To live up to expectations, Tianquan was ranked as the top runner-up of popular products in the Hi-Tech Fair
2017-11-22 14:40
---
China Hi-Tech Fair in Shenzhen nineteenth ten popular product unveiling in 2017 Nian 11 Yue 10 was held in the afternoon at the Shenzhen Convention and Exhibition Center, the municipal Party Committee Propaganda Department, Municipal Economic and Trade Commission and other information unit leaders, and dozens of business representatives, media The reporter attended the unveiling ceremony. At the ceremony, Shenzhen Vice Mayor Gao Zimin personally announced the ten most popular products that have attracted much attention. Tianquan Air Water Maker lived up to expectations and won thesecond placein the "2017 High-Tech Fair Product Popularity List " .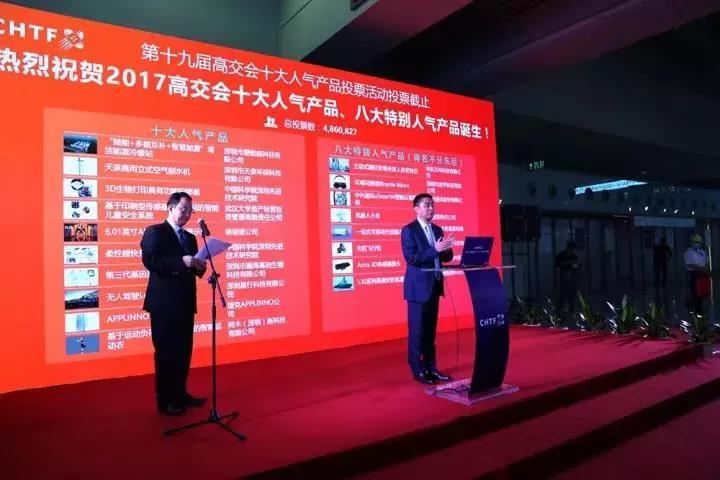 Vice Mayor Gao (right) attended the event and announced the voting results
This year's "Top Ten Popular Voting Events " lasted nearly three months and collected 322 high-tech products. After a comprehensive evaluation by the judges composed of the organizer, authoritative media and expert team, it was selected among many high-tech products. 60 shortlisted products are accepted by the public through online platforms. After more than 20 days of fierce competition,the TOP10 of the current high-tech fair wasfinally contested with 472572 votes!
Tianquan air water making machine, with the strong technology of making black water from the sky, struck strongly, once it was shortlisted, it was warmly sought after, and successfully topped the list of top ten popular products.
The "air water " produced by the Tianquan air water production mechanism is the third water source for humans after groundwater and surface water. It converts the water molecules in the breathing air into safe and direct drinking water, allowing people to experience safer. , Healthier and more environmentally friendly water and the power of technological innovation.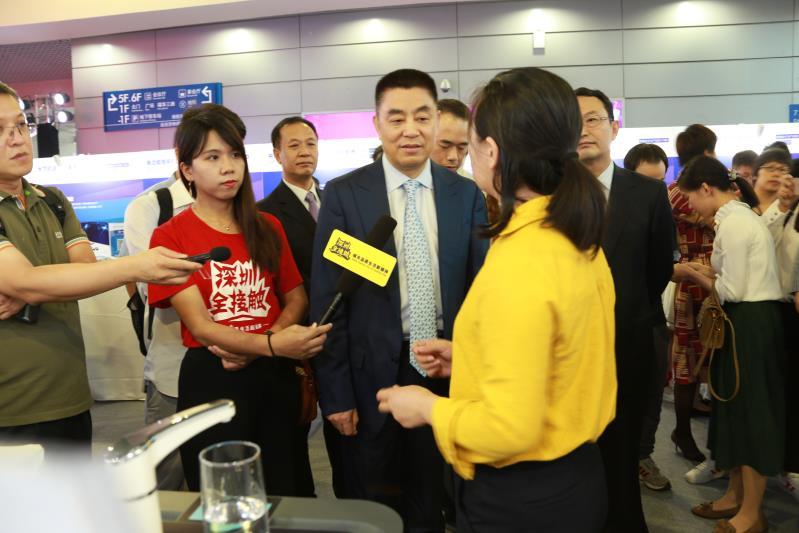 Vice Mayor Gao and his party visited Tianquan air water maker
Air water is not polluted by heavy metals in groundwater. The produced water contains trace beneficial minerals and is weakly alkaline water, which is suitable for long-term drinking. No waste water is produced during the water production process, no secondary pollution to the environment, and it is more low-carbon and environmentally friendly. It responds to the call of the "green low-carbon cycle development economic system and green technology innovation system " proposed by the 19th National Congress .
Severe water resource pollution and shortage problems have always been the focus of public opinion in the world, and also an inevitable difficulty in the sustainable development of China's society and economy. Tianquan will continue to be committed to pioneering and innovating in the field of air-to-water, using innovative technology to benefit the present and change the future, so that safe and healthy direct drinking water can be drunk everywhere on the earth!
---
MORE NEWS

[Heavy Report] Air Water Technology Makes the Best 100 Inventions of Time Magazine 2019
The American "Time" Weekly commented on the 100 best inventions in the world in 2019.
2019/12/20

Intelligent technology, enjoy the future with quality! See Tianquan Intelligent Realize the Future
According to the latest official information from the Hi-Tech Fair, this year's five-day Hi-Tech Fair has an exhibition area of 142,000 square meters
2019/11/18

Take you to reveal the new drinking water fashion to see how Tianquan Intelligence shines
Shenzhen Tianquan Air Water Intelligent Technology Co., Ltd. (hereinafter referred to as Tianquan Intelligent) is one of the innovative teams in the field of intelligent technology
2019/11/14


Add:4F, building A3, Yihe (Tianliao) Precision Industrial Park, Gongming street, Guangming District, Shenzhen
Marketing Center:8F, block A, Zhongyin building, CaiTian Road, Futian District, Shenzhen

Wechat
WORKING HOURS
MONDAY TO FRIDAY 8:00-18:00

Website