Air and water originate from nature!
2017-06-07 14:51
---

AQUATECH CHINA Shanghai International Water Show, known as the world's largest water show, has now become the vane of the water treatment industry. This year the overall scale is 200,000 square meters, and Tianquan gathered with 3,200 leading global companies in more than 30 countries . Tianquan Air Water Machine made its debut at the exhibition with new products, and received customers from China, the United States, France, the Netherlands, Russia, Japan, Malaysia, India, Brazil, Chile, South Africa and other countries.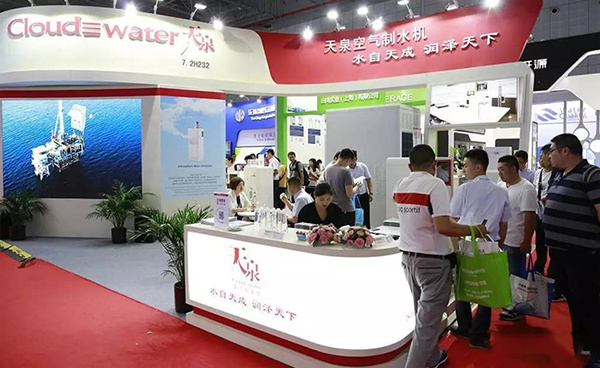 Tianquan air water maker is free from the constraints of traditional water sources, innovative development, using fresh air as the source of water production, by collecting water molecules in the air, through condensation and multiple filtration and purification, directly produce direct drinking water.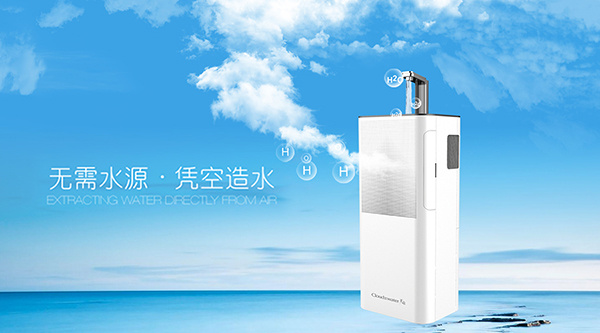 Tianquan not only achieves innovation in water sources, but also introduces new energy in the operation of the machine, realizes solar power supply, and realizes green development in all directions. It is precisely because of the unique concept of Tianquan products and the sustainable and green development method that Tianquan continues to pursue that deeply attracted the attention of the visitors and was highly recognized and appreciated by the industry.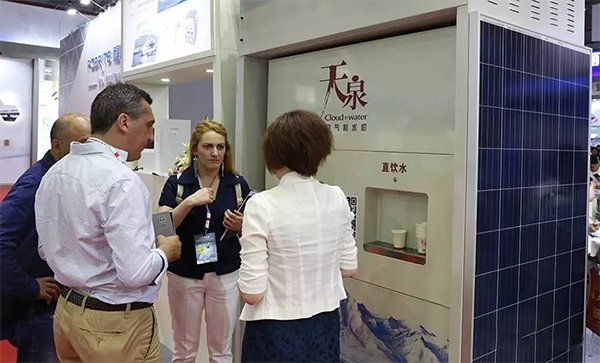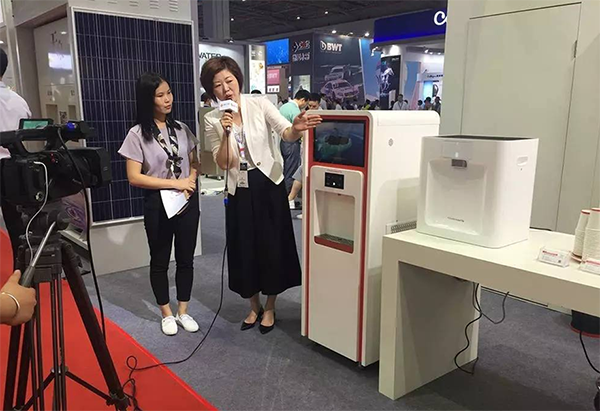 Ms. Wu Fang, General Manager of Tianquan, was interviewed by the media
Tianquan air water maker improves drinking water model, improves drinking water quality, responds to policy calls, injects natural power and energy into products, and promotes the formation of green development methods and lifestyles.
Amsterdam International Water Exhibition (Shanghai) annual session next year, 5 months 31 Ri -6 months 2 days, Tian is still looking forward to your visit!
---
MORE NEWS

[Heavy Report] Air Water Technology Makes the Best 100 Inventions of Time Magazine 2019
The American "Time" Weekly commented on the 100 best inventions in the world in 2019.
2019/12/20

Intelligent technology, enjoy the future with quality! See Tianquan Intelligent Realize the Future
According to the latest official information from the Hi-Tech Fair, this year's five-day Hi-Tech Fair has an exhibition area of 142,000 square meters
2019/11/18

Take you to reveal the new drinking water fashion to see how Tianquan Intelligence shines
Shenzhen Tianquan Air Water Intelligent Technology Co., Ltd. (hereinafter referred to as Tianquan Intelligent) is one of the innovative teams in the field of intelligent technology
2019/11/14


Add:4F, building A3, Yihe (Tianliao) Precision Industrial Park, Gongming street, Guangming District, Shenzhen
Marketing Center:8F, block A, Zhongyin building, CaiTian Road, Futian District, Shenzhen

Wechat
WORKING HOURS
MONDAY TO FRIDAY 8:00-18:00

Website
Copyright © Tianquan Airwater Technology Co.,Ltd. All rights reserved.